Straight Talk with Travis
For countless years our security guard, Travis, has made us laugh. How'd he get so funny? Does anyone outside of Wakefield know about Travis' gift? There is a lot more to our famous security guard than meets the eye. When asked why he chose comedy as his life's pursuit, he said, "Whenever there's a dark cloud over me, the only way I see sunshine is through making people laugh."
He grew up here. Alexandria, Virginia to be exact. Even at an early age, he was already cracking jokes and messing with people to the point where they wanted to beat him up. Growing up he spent a lot of time with his grandma, and this is from where he got his funny side. She had a daycare business; he found inspiration in how she incorporated comedy into all parts of life. Many people don't know that he also went to Wakefield High School.
After high school, he worked with a radio station for a while doing the weather broadcasting. His friends constantly told him he had a gift;  he could even made the weather funny. One day some of his friends took him to a comedy club called Cotton Eyed Joe, and he did a show there. After that, he started entering an annual competition there. He started getting paid to make people laugh. He made solid connections and put his name out there.
Eventually, Travis got to open for Tony Rock (Chris Rock's brother), who usually opened for Eddie Griffin. You may have seen Eddie in movies such as Undercover Brother, Norbit, and Date Movie. One day, Tony asked Travis if he wanted to go on tour with him and Eddie. Travis joined the tour, and ended up opening for Tony. The crowd loved him. One of his fondest memories of the tour is when he looked out into the crowd and could see people falling out of their seats laughing at his jokes. During the tour, Eddie Griffin gave him some valuable advice and tips. He did five more shows with Eddie, then came back to Arlington. Travis still works with Tony Rock and constantly performs in shows with him.
For more information on show dates go to laughingwithtravis.com. Some of his shows are for 18 and older audiences, so check the guidelines for the venues. If you are not 18, you can see him at the Comedy Spot in Ballston. Whether it's seeing Travis' stand-up comedy, or just random hilarious encounters in the hallway, we can all agree that Travis is an integral part of Wakefield High School. It wouldn't be Wakefield without him.
Leave a Comment
About the Contributors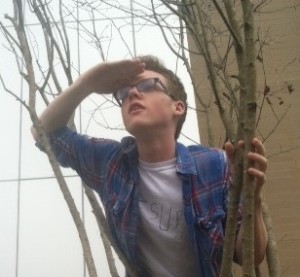 Forrest Jacobs '14, Staff Writer
In his free time he sits alone in his room and plays with his action figures. He sits next to Kailee who distracts him from interviews and he doesn't...