Girls Varsity Basketball Breaks a 40 Year Record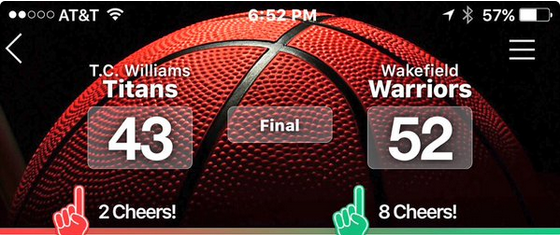 Girls' Basketball has just finished up their first week of play, and are already playing like a cohesive team. Along with a 2-0 start, with back to back wins over Yorktown and TC Williams, the girls have already made their place in history. The Varsity team beat the Titans for the first time since 1969.
Junior Tamara Jackson said, "throughout the games and practices we all stick together. If we're down in a game, and need someone to score, I pass it to Lyrin, Summer, Olivia, or Hailey. We share the ball and the court so we can win our games."
The team opened up the season with an impressive win over the Yorktown Patriots on their court. The girls were able to control the tempo of the game and maintain a lead throughout the majority of the game. They played well as a unit and it was a complete team effort. The final score was 49-43.
In the win against Yorktown, the girls were led in scoring by Sophomore Jami Tham and Freshman Taelor Willard who each scored 10 points. Coming in close behind them were Summer Matlack with 9 points, Lyrin Hatcher with 9, and Hailey Finlay with 6.
Their second win came Saturday night at home over the TC Williams Titans with a score of of 52-43. The players remained in control throughout the entire game, and started the game on a 14-0 run. The Warriors were able to maintain a lead throughout the entire game, never allowing the Titans to get within striking distance.
On Monday night, the girls fell to the Madison Warhawks. The final score was 55-42. Madison just kept hitting those rebounds. The ladies stayed within 10 points for most of the game. It was a tough loss.
The girls plan to make this an overall historic season. Their next home game is December 15th at 7:15pm against the Jeb Stuart Raiders. They need SUPERFANS to be there to cheer the team on to #victory!