Mr. D The Head of Our Sleeping Giant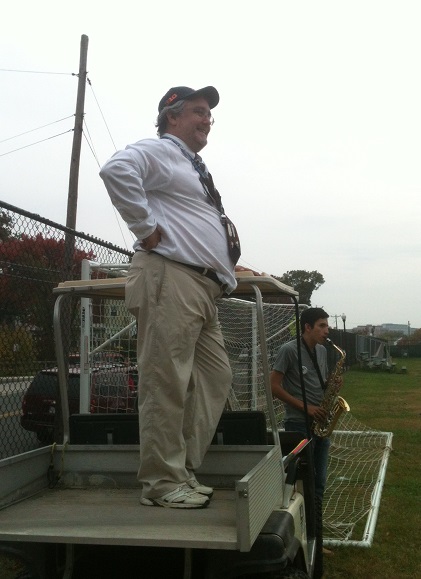 He first touched piano keys at age 4. He has lead the school's "Sleeping Giant" for the past 12 years. (This is the loving nickname attached to Wakefield's Marching Band because with such a small number of members, they can make an awful lot of noise.) Although he tends to reside in the performing arts wing, he isn't some terrifying giant tamer of a snoring beast. Mr. d'Alelio is Wakefield's band director, and so much more.
Mr. D, as most people call him, because they have no idea how to pronounce his name, (It's duh-luh-leo by the way.)  mentioned that his love for music began at an early age. He "started crawling up to the piano at age 4, and just has just always been drawn to it." He stated, "I can't remember a time when I wasn't doing some sort of music." He started teaching band in 1994, "in a small farm town in Illinois called Flatville, yeah, that was the actual name of the town." He eventually pulled up roots and came to Wakefield. He is now on his twelfth year here.
Most recently the band competed at Arundel High School. Last month the marching band won their class (class 1A, small band class) at the Arundel High School Wild Band Spectacular. "Earlier this season, we won a caption title for best music."  Mr d'Alelio stated proudly. Competitions are normally broken up into visual, music, effects, percussion, and color guard. "Our band managed to win "High Music" at the Herndon Invitational" he added. "The fact that we won was great, we hadn't been on the field for three and half weeks, because we lost that access due to construction." When asked about the strange nickname, Mr. D replied, "we like to think we're a sleeping giant, that's why it's on all the band shirts."
As Mr. D moved to the topic of awards that were special to him over the years, his eyes lit up. He sat straight up and said, "last year's second place finish in Boston with the symphonic band, was some of the highest scores that we've gotten in the last 12 years. It was a hard trip because it was the week of the Boston bombing. It felt really good that the students were able to settle down and perform well." He continued, it "felt great, it really was a sign of progress being made. It finally felt like all the hard work started to pay off." By far, his fondest memory of the old school is, "the year we hosted the David Pohl Clarinet Festival." It was in honor of the passing of Ms. Pohl's husband. "We had members of the Army band put a clarinet ensemble together to perform at the event, and also give free clinics for the kids." What are his future plans? The next step after this year is to, "grow, grow, grow. We're trying to increase the size of the program. It's been a goal for the past 12 years. We haven't gotten as many kids as I like in the past, so we're working on putting more through [the program]."
Mr. D isn't just a band director, he also has a Senior Project class. He has one standout reason as to why he has stayed here at Wakefield so long. "It's the kids" he said simply. "It doesn't matter what's going on professionally in the building, the kids have always been able to make it worth every day that I'm here" Mr. D said with a smile. He is doing something right. This year was the most successful season in 12 years!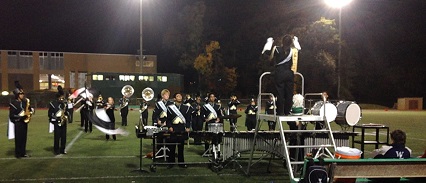 Here is the Recap:
Herndon Invitational: Best Music
Arrundel High School Show: 1st Place
Mid-Atlantic States Championships: 2nd Place, Best Percussion…because they were the highest scoring band in 1A from Virginia, they were crowned VA State Champs!
Congratulations to all marching band members! The marching band needs a new nickname. This giant is definitely awake!
View Comments (1)
About the Contributors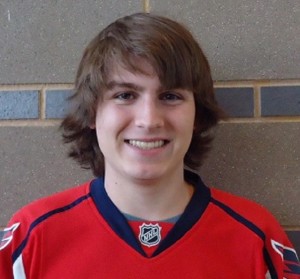 Alex Gilmore '14, Webmaster
I'm So Meta Even This Acronym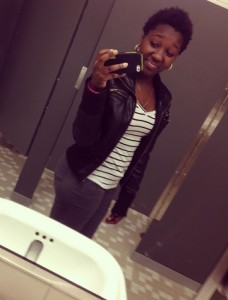 Kashaya Miller '14, Staff Photographer
I am from New York. I love clubs and having fun, plus I give the best advice in town. Who could ask for anyone better?