It's Ac! Team: Wakefield Is Wicked Smart
"It's Academic", the high school scholarly facts competition, is in its 55th year at NBC 4 Studios in Washington, DC. The Wakefield "It's Ac!" team has also had a long history. Here is a video from a stellar performance in 2009 and some footage from the team in 2016.  
In the last few years coaches have come and gone, but this year, Mr. Stewart, aka Professor Fly, a House Five English Teacher, has taken the reins and brought Oreos and orange soda.
"
Keep practicing and working hard. Smell the Oreos before you eat them. Sometimes they smell like kerosene."
— Senior Brendan Novak
There are quite a few members, but with a good portion of the club graduating in June, more members are needed. This is the only club at Wakefield where you get to be on TV! The team taped their annual performance in December. It airs this week, February 27th, at 10:30 a.m., on NBC4.
Senior Brendan Novak boiled down the reasons to join the club to five words: "Ladies love a smart man." Novak has been on the team since he was a freshman.
Another "It's Ac!" veteran, senior Anthony Felipe added, "It's pretty great to know so many random facts off the top of your head."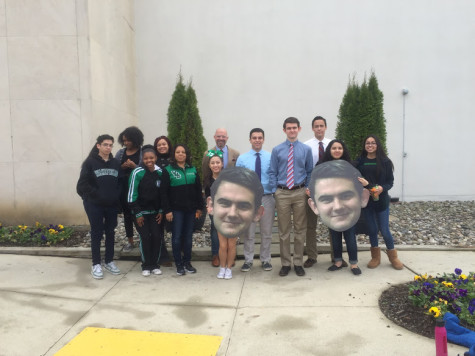 The other member who starred on Saturday's show, senior Alex Hendel, is well know for thinking he has all the answers. On the day of the taping, he had just been rejected from Stanford, so all he could say was, "It helps you get rejected from Stanford." He is so #meta.
The newest members are freshmen.  Freshman Tasmina Hossain said she joined "It's Ac!" because her brother Mdnazmul Hossain (WHS '13) was a member. He told her to join because it was fun. Freshman Elias Posner said this experience will definitely help him in the future. Sophomore Bezawit Shimeles  said said she enjoys going to practices because Mr. Stewart provides them with snacks.
There to support the team were our wonderful cheerleaders, supportive parents and teachers, and, last but not least, Dr.Wilmore. The crowd was happy to be there supporting our fellow warriors.  As you can see the Brendan Novak "big head" posters were there too. The hostess Hilary Howard referred to them as the "floating heads".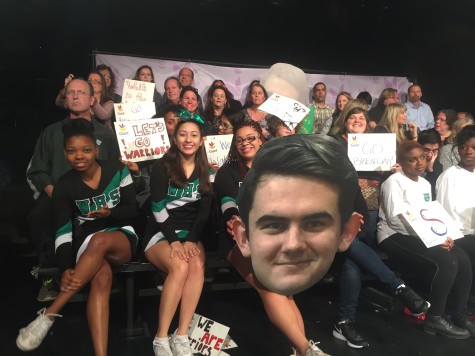 Beyond the Saturday performance, the Wakefield It's Ac! Team also competed throughout the fall against other local schools, racking up a 5-1 record. Though they eventually came up short at the district tournament in January, losing a close match to Thomas Jefferson, they put up a bold performance and gained the respect of other area schools.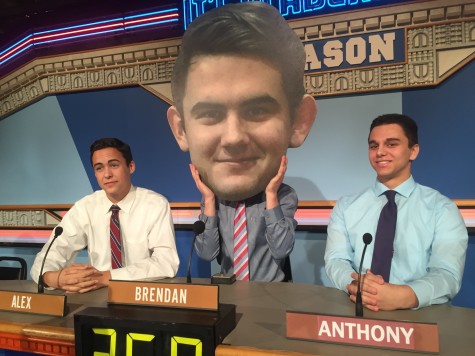 Brendan Novak has suggestions for prospective members of It's Ac: "Keep practicing and working hard. Smell the Oreos before you eat them. Sometimes they smell like kerosene."
Leave a Comment