#snowmageddon2016 Pizza Delivery Options Compared
As Arlington digs out of the snow, the one thing on everyone's mind is…pizza. After 5 days of eating at home, pizza delivery is a hot topic. We ordered from three local pizza places to see who had the best pizza. We compared Domino's Pizza, Papa John's Pizza, and Brick's Pizza. We ordered one large cheese pizza from each location at the same time. Find out how each place stacked up.
(This survey was done before the snow storm, so delivery time will be different right now.)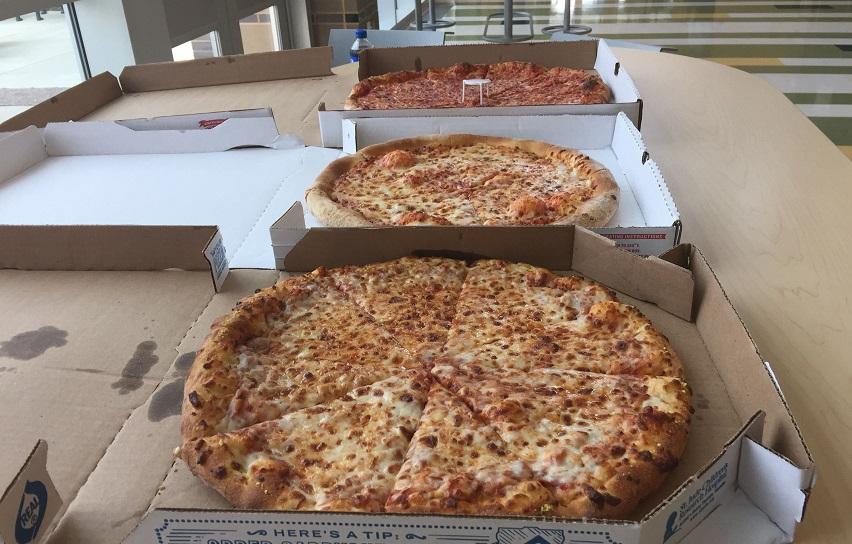 Price: $11.99 for a large pizza delivery is actually pretty cheap. It costs what most other pizzas cost for carry out.
5 out of 5
Delivery: They told us they would be there in 35 minutes and came in 15. THAT'S TOP OF THE LINE SERVICE!
5 out of 5
Appeal: (How it looked when it arrived.) The pizza kinda looked kind of greasy, but overall the combination of color from the sauce, cheese and garlic crust was good.
3 out of 5
Taste: The pizza itself is great; it has a certain satisfying salty taste to the cheese. The garlic crust is amazing, chewy and crunchy at the same time.
4 out of 5
Sustenance: (How much does it fill you up?) The pizza fills you up pretty well, and the weight of the cheese will hold you over for a long time; a large would last a normal person all day.
4 out of 5
Overall: Dominos has a very good pizza for a good price. It tastes like it has always tasted, so you know what you are getting. It's also a very good pizza for parties or just having friends over because you won't have to pay too much money out of pocket.
21 out of 25…a SOLID 84% B
Price: $14.00 for a large pizza is a fair price, though maybe just a bit high.
4 out of 5
Delivery: They said 30-40 minutes, but came in 31 minutes. They did what they said they would do. We can wait if the quality is there, and they weren't late. It takes time to prepare, I can relate.
4 out of 5
Appeal: The pizza looks GOOD! I mean it looks nice, thick, and filling. The cheese covers the surface perfectly. The sauce is a noticeable bright red, pleasing to the eyes. They could do a little more with the crust, it looked kind of dry and dusty.
4 out of 5
Taste: This pizza tasted the best by far. It has a nice airy feeling when you bite into it. Then the combination of sweet sauce and salty cheese will knock out your taste buds.
5 out of 5
Sustenance: This pizza will fill you UP. I mean a whole pizza satisfied me all evening, and I have a stomach like a trash compactor. It's just heavenly.
5 out of 5
Overall: This pizza will always be a standard for pizza to which I will compare all others. "Better Ingredients. Better pizza." is right! Papa John's should be the staple pizza place.
22 out of 25…That is 88%…a B+! 
Price: $15.29 for a large pizza, which is the most expensive of all the places in the area.
2 out of 5
Delivery: The people said 30-40 minutes, it came in 25 minutes…which was pretty okay.
4 out of 5
Appeal: The pizza looked really dark, so it didn't attract the eye as much as the others. It didn't look repulsive, just burnt. The slices were also very skinny.
3 out of 5
Taste: It actually doesn't taste all that bad. (I thought it would be much worse based on looks.) There's nothing special about it.
3 out of 5
Sustenance: It's a very thin pizza, not much cheese or sauce either. It doesn't really fill up the stomach. That is the most important thing to me.
1 out of 5
Overall: This pizza is expensive for no reason; it has no taste to it outside of the sauce. The crust…it's literally like their name (Brick's). It is hard but not crunchy. I wouldn't go there unless I was being lazy and there was one across the street from  me.
13 out of 25…earning it a 52% E (Maybe they can have a retake and pass this pizza exam.)
So, Wakefield. There you have it. Papa John's won. Do you know of a pizza place we should review? Leave the name in the comments below. We may even ask you to come help us with the next taste test.
View Comments (1)