US Men's National Soccer Team is on Their Way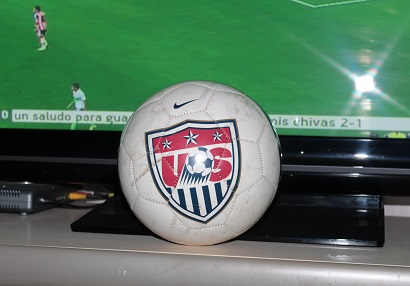 Soccer isn't the most popular sport in America, but once the World Cup comes around, everybody jumps on the bandwagon. For those who aren't very knowledgeable when it comes to soccer, this article is for you. The US plays in CONCACAF (Confederation of North, Central American and Caribbean Association Football) which is a relatively weak group of countries with the highest ranked team being the US (13th), and the next highest being Mexico (24th). In CONCACAF, the US, along with Costa Rica, and Honduras, has already qualified with an automatic berth to the World Cup. Although Jürgen Klinsmann's tenure got off to a rocky start as a head coach, the US has dominated the teams of CONCACAF as of late. At one point in qualifiers, the US won 12 games in a row. Talks have begun about making a significant run in the World Cup.
Some of the notable matches that got the US where they are now are the 0-0 draw in the "Estadio Azteca" (home stadium for the Mexican National team) against Mexico, America's long time soccer rival; US's controversial 1-0 win versus Costa Rica that could have been called off due to the amount of snow on the field; and US's 2-0 win against Mexico that clinched a spot in the World Cup in Brazil. There are some players locked to start in this upcoming World Cup. Clint Dempsey, who made the shocking move to Major League Soccer (MLS) over the summer, will wear the captain's arm band for the US. Playing as Striker for the US will be the streaky Jozy Altidore, who provided many goals in qualifiers. Veteran Michael Bradley will be a force in the middle of the field, while the inexperienced Omar Gonzalez will try to be the anchor of the defense. Tim Howard, one of the best keepers ever to play, will be the goalie, but at 34, this could be his last World Cup. Talking about the Men's National Soccer Team without mentioning Landon Donovan is hard to do, but Donovan's shaky relationship with the manager, and the fact that he took a break from soccer all together made his position questionable. Luckily for Donovan, a great summer of World Cup qualifiers put him back in the mix, and it looks very likely that he will be heading to Brazil this summer. In the past, the US has been a laughing stock to the rest of the world when it came to soccer, but with the team's recent success, the future looks bright.
Leave a Comment