Rock Album Of The Month
Flashback to 1995, around the time most students were born. Some don't bother listening to music from this time because it was recorded on tape and couldn't be edited. No, not scotch tape, but analog tape, which meant there was no room for error. Unlike today, where you can make a mistake and fix it with a computer, recordings on tape were permanent, brilliance and mistakes were recorded permanently for everyone to hear.
Imagine recording a whole album on tape, with that standard rule. In a week. By yourself. Dave Grohl accomplished this when he produced his band's first studio album, self titled, Foo Fighters. Grohl was born in Ohio, and spent some time in Springfield, Virginia. During his time in the area, he started drumming for a group named Nirvana. After the infamous passing of Kurt Kobain, and a mourning period, Grohl emerged and wanted to try his own thing. He wanted to have full control over his first solo release, so he recorded the whole 44:06 length album in a tiny studio in Seattle by himself in a week.
The self titled album sold two million units within 6 months of its release. It consists of that classic grungy Nirvana style that makes people want to rock out. The songs he laid down range from "Weenie Beenie" (a reference to the Weenie Beenie on Four Mile Run) and "Wattershed" which have a heavier, almost metal sound, to "For All the Cows" and "Big Me" which are softer, more melodic tunes. Foo Fighters has a variety of tunes for everyone to enjoy.
If you're looking for an older album that will put you in a good mood, Foo Fighters is the album. Jam out.
Tracklist:
1. This Is a Call 3:53
2. I'll Stick Around 3:52
3. Big Me 2:12
4. Alone + Easy Target 4:05
5. Good Grief 4:01
6. Floaty 4:30
7. Weenie Beenie 2:46
8. Oh, George 3:00
9. For All the Cows 3:30
10. X-Static 4:13
11. Wattershed 2:15
12. Exhausted 5:45
Leave a Comment
About the Contributor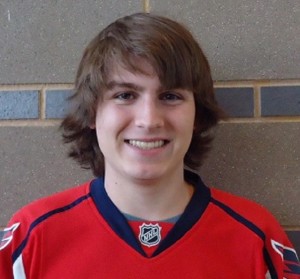 Alex Gilmore '14, Webmaster
I'm So Meta Even This Acronym