George Long Holiday Tournament: Honoring an Arlington Icon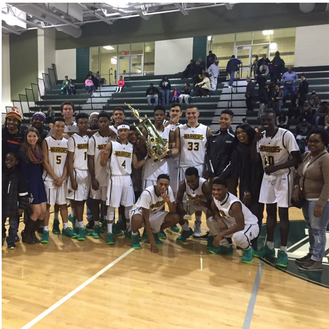 This Winter Break the annual Boys Basketball Tournament was held at Wakefield in honor of George "Go Go" Long. George Long is a legend in Arlington. This hero has had festivals thrown in his honor and even a segment in Gunston's Valley Memories series ten years ago.
Wakefield represented Arlington well, winning every game and coming in 1st place. Junior and Shooting Guard Alan Treakle sadi this of the tournament, "the Christmas tournament was a great experience for the guys, playing teams that we usually don't play. The team did really well in not giving up and battling back when this got tough, also coming together and getting the job done to bring home that trophy."
There were some close calls like the final game against Robinson. Senior Deng Nhial hit the final shot which won the game. Of this buzzer beater he said, "I realized that Alan had the ball so I figured he was going to win it for us, but when he drove the defense collapsed on him. He was able to find me for the wide open basket…it was all thanks to him." Nhial is ever the humble player.
Round 1 Wakefield vs Washington lee
The first quarter started off slow for the warriors with Washington and Lee close behind. In the second and third quarter the offensive pace picked real quick giving the warriors a 20 point lead. The last quarter of the game boosted the warriors lead to 26 points.
Round 2 Wakefield vs West Potomac
By defeating a very tough against West Potomac team, 66-55. After being down 42-41 to start the fourth quarter, the Warriors outscored West Potomac and won the fierce game advancing to the championship game.
Round 3 Wakefield vs Robinson
During the game Wakefield holds off Robinson to win The George Long Holiday Hoops Tournament on a game winning layup by Senior Deng Nhial. After being down 43-31 at halftime, the Warriors came back with outstanding power and dedication to defeat the Robinson rams.
Halil Parks won MVP of the tornament. Of this honor he said, "being announced MVP was a great feeling. Although I won the MVP trophy, that couldn't compete with winning the whole tournament and cherishing that bigger trophy as a team."
Treakle said this of future tournaments, " As a team we'll try not to start as slow and try to get teams out the way early."
Don't wait until next Winter Break to see the boys play, go to the game tonight at 7:15 on Edison's court to see them #beatEdison.
Leave a Comment