Wakefield's Staff of the Year
Every year staff from Wakefield are nominated to be Arlington County Employees of the Year. This year, Wakefield's staff of the year are Ms. Thacker, Ms. Long, and Ms. Harris.
From New Orleans, Ms. Harris is an AP Environmental Science and Earth Science teacher Receiving this award was a surprise but she was honored to be selected. "I couldn't do this job without the rest of the staff," she said. Her favorite thing about Wakefield is all the people, she also loves seeing students teaching other students. Her hobbies include drinking Dr. Pepper, collecting anything related to the delicious soda, and also…rocks. Being a big Nationals fan, she also enjoys baseball games with Ms. Carruthers. Some advice she has for students, "Don't be afraid to ask for help, I'm always happy to help!…Don't be afraid to take an AP class."
A true Arlingtonian, Ms. Long is part of the support staff for Wakefield and also co-coaches Wakefield's track teams. She's honored to get this award and is flattered to be recognized by people she works with. She loves running, hanging out with her kids, and going to the beach. Even though she went to Washington-Lee, she loves Wakefield and its diversity and level of tolerance. If she had to eat one thing for the rest of her life…it'd be chocolate. One piece of advice she has for any high school student is to use this time to explore interesting and new things.
"
It's not my award, it's everybody's award"
— Ms. Thacker
Wakefield Alumni Ms. Thacker loves painting, needlework, cooking, and hanging out with friends and family. She loves Wakefield's school spirit and sense of community. Seeing how much students and faculty care for each other, "makes my heart very happy." She feels very honored, proud, appreciated, and happy that her colleagues nominated her for this award. "It's not my award, it's everybody's award," she said. If she could eat one thing for the rest of her life it would be grilled smoked salmon but only from the Great American Restaurants. Advice she has for high school students is, first, take advantage of your public education, after high school you have to pay for college. Secondly, don't forget to give back to your community. Lastly, listen to your elders; they all have something to tell you that you need to hear, whether it's advice or a story.
These lovely ladies have a lot of interesting Wakefield stories. Stop by to congratulate them and learn a little Wakefield history.
Leave a Comment
About the Contributor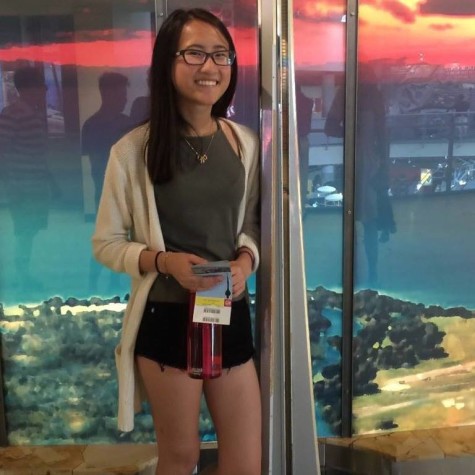 Katelyn Ly '18, Arts and Entertainment Editor
Katelyn is a sophomore at Wakefield, but this is her first year in journalism. She enjoys petting dogs, drinking tea, and meeting new people, although...