Lydia Dunbar and Cierra Jenkins Recap Their Journey To States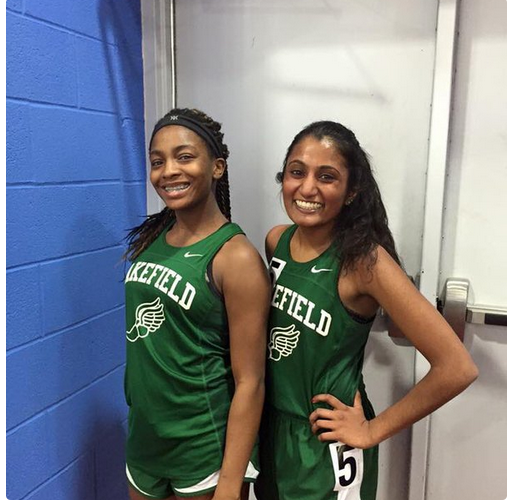 For most runners, the start of track season means a new beginning that holds opportunities for new records, wins, and accomplishments. All season runners maintain a rigorous training schedule and devote their time to the sport in an effort to become better; by the end of the season, their hard work has paid off in personal gain and hopefully a win or two.
For some runners, like senior Lydia Dunbar and sophomore Cierra Jenkins, the grueling practices and training result in much more; eligibility to compete in the state championships. We spoke with Dunbar and Jenkins for a recap of the season and some insight on the road to the State Championships.
While chatting with the girls, it became evident that in order to understand the journey to states, you had to start before this track season. For many runners, like Dunbar and Jenkins, the journey began in middle school. Both girls have been in the fast lane to athletic excellence since those days.
"
I fell in love with the sport from the time that I started running and since then I have been racing for a finish line that until this year hasn't been in view. "
— Sophomore Cierra Jenkins
Jenkins referred back to middle school when asked about her journey to states; "running has been a part of me since the 6th grade. I didn't start preparing for states this year, I started preparing the first time I stepped onto the track. I fell in love with the sport from the time that I started running and since then I have been racing for a finish line that until this year hasn't been in view. States has been my goal from the moment that I stepped foot on the track in middle school" said Jenkins.
Though the girls are both seasoned athletes, don't for a moment think that makes the tough practices easier. The coaches put the girls, along with the rest of the team, through rigorous training in order to prepare them throughout the seasons. They often ran the same drills over and over in order to get the fastest time they were capable of.
"Repetition is key. You have to run it a few times to get a feel for it and the more that you run it the more comfortable you get with it" said Dunbar.
Lydia and Cierra run two different events (Lydia the 3200 m and Cierra the 500) but have similar practice experiences. Indoor track practices are usuall every school day and run from about 3:15 to 4:30. In that time, the runners work with one or more of the three coaches to perform drills to attempt to improve their form, speed, power, and endurance. The coaches promote both mental and physical discipline throughout the practices and push the runners to their maximum abilities in order to make them better.
Jenkins said, "through the season, the coaches learn your individual style and know your limits and how to get you to push them. They push you to places you didn't even know you could go."
Aside from just pushing the runners, the coaches also inspire the girls. Lydia Dunbar told me about a quote from Coach Strauss that she thinks of before every race.
"He told me that as an athlete I had the choice with each step I took to either slow down or push through. To me that means that I am the only one that decides how fast I go. No one else can make the choice for me. I'm the only one who can tell myself to keep moving." said Dunbar.
Jenkins also learned a similar lesson over the season on harnessing her mental strength.
"For a runner I'm small. I'm only 5'4 and a lot of the other girls are taller. People underestimated me because of it, and honestly so did I. I stood next to these girls who tower over me on the starting line and it intimidated me a lot to have to run against them. It's taken years for me to get past the fear of running against girls who are so much taller than me."
Looking back over the season both Dunbar and Jenkins are proud of their accomplishments and hard work. These girls have taken all the skills from the season and applied themselves and are now ready to take on the State Championships. This is Lydia's last opportunity to run for indoor track and she is admittedly a bit nervous. Overall, they both are happy with the work they put in and hope that it is enough for them to place at the championships.
We are extremely proud of all of our Warrior runners and are wishing the best of luck to Dunbar and Jenkins as they prepare to compete in the state championships on Friday, February 26th!
Leave a Comment