Lady Gaga Delivers Powerful Oscar Performance.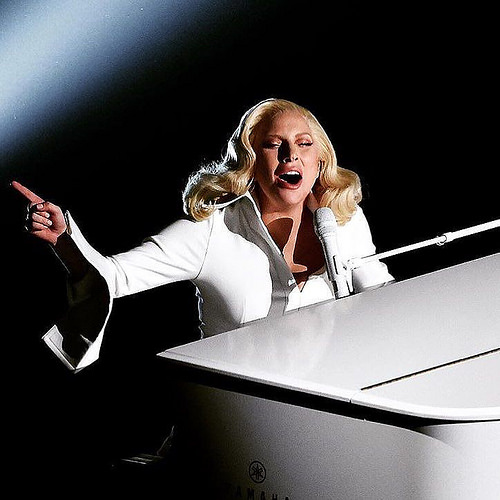 Lady Gaga was not holding back on her daring message about sexual assault at the Oscars. She was successful at delivering an emotional yet powerful performance that brought stars, such as Kate Winslet and Rachel McAdams, to tears.
Dressed in white, Gaga performed her Oscar-nominated song "Till It Happens To You." The song was featured in the documentary The Hunting Ground, which draws attention towards sexual assaults on campuses. She started her performance singing the song on a white piano with deep passion. Towards the end, as the screens behind her lifted, she was joined on-stage by 50 sexual assault victims, hand in-hand, with the words "Not Your Fault" "Unbreakable" and "Survivor" written on their arms.
Gaga, in late 2014, revealed that she had been raped when she was 19. She has been a big campaigner to bringing awareness of sexual assault and rape. She has opened up about her experience and has also raised her voice for many survivors who have not received justice. Probably one of the best examples is of Gaga supporting Kesha in her legal battle with Dr. Luke and Sony. She is one of many stars who are keeping #FreeKesha active and alive.
Lady Gaga's performance was introduced by Vice President Joe Biden, who also talked about The White House's "It's on Us" campaign which is also about sexual assault. The emotional song sang by Gaga was co-written by Dianne Warren who is also a survivor of rape.
One of the victims who joined Gaga on stage, in an interview according to Entertainment Online, said that when they first saw Lady Gaga, she was sobbing, and she kept on telling them how strong they were, and how no one can ever bring them down. She also cried during the rehearsals and before her big performance told them, "We're in this together, we're gonna heal together."
Although Gaga didn't walk home with an Oscar, her moving performance was one of the major highlights of the show.
Watch her performance here.