Reflection on a Diplomatic Childhood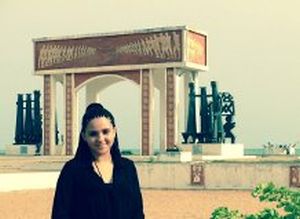 "I am not the same having seen the moon shine on the other side of the world."
– Mary Anne Radmacher.
I am the daughter of a Brazilian diplomatic officer; the travels, the contact with other cultures, the taste of different spices are all a part of my now permanent wanderlust.
At only 18 years of age I have visited more than 10 countries, learned five languages, experienced stunning arts, tasted multiple culinaries, and witnessed historical facts and traditions. My time in Germany was the most valuable of my international experience. In those five years, I finally got to travel for pleasure more than for my mom's work. We visited wonderful places inside the country, appreciating up close the German historical castles and spectacular museums. It also gave me the opportunity to travel around Europe. I was in a boat on the river Thames, passed under the London bridge, saw the whole town from the top of the London Eye. I swam in the blue transparent water of Mallorca, admired the beautiful sunset over the Egeus in Santorini, and felt overwhelmed by the ancestral history of the Temples in Athens and  Side/Turkey.
My life is a mixture of incredible and strenuous experiences. On the tough side, there were the innumerous changing of schools, the endless nostalgia, the language struggles, the isolation, and the tedious process of moving. I have had to endure 14 years of school, not 12, due to different school systems, different school years, and language barriers. I would say that my two years in Togo, West Africa, were the roughest. During that period, I was the subject of discrimination, for being a foreigner and whiter than the locals.  Togolese food was too exotic; we mostly ate at home or at the few international restaurants with Middle Eastern, Asian, or European food; thanks goodness for pizza! In Togo, I had to learn not just one language, but two, English and French. The scariest moment in my life happened there; I had malaria three times, with 104 °F fever in a country/region with a very poor health system. However, it did not stop me from going to breathtaking safaris, and canoeing in the wild forests of Benin.
I have no regrets; I have timeless memories of my adventures as the child of a diplomatic officer, improving my knowledge of the world. I grew up knowing how to adapt, respect diversity, and value my roots, friends and family; and as I move forward to a new chapter of my life, there will always be a space in my heart that seeks new adventure.