Not Just A Lacrosse Team But A Family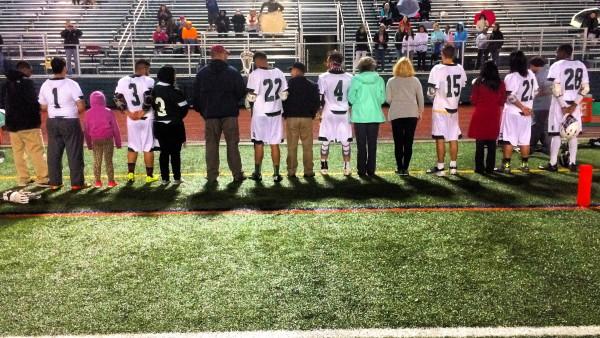 The Thursday before last was the last time Wakefield Boys Varsity Lacrosse played on home field. The last time these seniors played with this team, #seniornight #memories.
Wakefield lost their home season finale in a nail-biter to Rock Ridge, 12-11. Our seniors really left it all out on the field: Chris Robertson got 4 goals, Noe Cuadra got 3 goals, Akelin "AJ" Jackson got 2 goals, and Chris Jankovich got 1 goal. Sophomore Charlie Hollingsworth rounded out Wakefield's scoring for the night.
Senior and midfielder Chris Robertson said of the team, "I'm very impressed and proud of how much the team has developed over the past two years. We have a lot of new guys this year, including two seniors, who have really stepped up and brought this team together."
7 seniors graduate this year: #1 Youssef Erami, #3 Noe Cuadra, #22 D'mitri Powell, #4 Chris Robertson, #15 Chris Jankovich, #21 Brandon Burns, and #28 Akelin "AJ" Jackson. The team has developed some close bonds. Their chemistry was obvious on the field. These boys took the team from certain disaster at halftime, (Wakefield had no points on the board.) To the closest game Lacrosse has seen in the history of Wakefield. Noe and Chris kept the team electrified and together. They got 7 of the 11 goals which Wakefield got on the board in the second half. Rock Ridge won, but Wakefield persevered.
When asked about what he will take away from the season, Senior and Captain Youssef Erami said, "I will remember all through college how they called our names and we almost won." Senior Noe Cuadra said he will remember "the party after the end of the game. We went to the cafeteria; they had our names on the wall." What he will cherish is, "taking my number home."
Keep these memories, warriors. They will become more and more valuable as time passes.
Leave a Comment