The End of the Year is FINAL-ly Here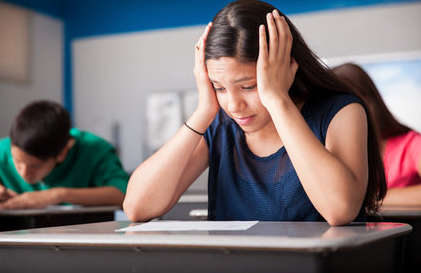 The school year is coming to an end (#15daysandcounting), and you know what that means. Finals week is June 17th to the 22nd! (Friday, June 17th is 7th period. Monday, June 20th are 1st and 2nd period, #earlyrelease. Tuesday, June 20th are 3rd and 4th period, #earlyreleaseagain. Wednesday, June 22nd are 5th and 6th period, #lastdayofschool.) Finals week is probably one of the most stressful weeks for students. By following these five tips, you will be able to get through this week!
Get Sleep!!
I know you have probably heard this one about a million times, but it really is important! According to Nationwide Children's,  Teenagers who get less sleep are more likely to get poor grades in school, fall asleep in school, and have school tardiness/absences. So, if you think cramming in another hour or two of studying is going to help your grade, think again. Getting less sleep is more likely to bring your grades down.
Don't Procrastinate
I can't stress this one enough. Procrastinating is the worst thing you can do during Finals Week! Your final is based on all of the curriculum you have been learning this whole year, so you can't study for it in just one or two nights. You need to start studying! Once you start, you will begin to realize you probably have questions you might want to ask your teacher and you can't ask them if the next morning is your final exam. You should study for your final during the week before. That should give you enough time. Try to make it fun by studying with friends, but REALLY study.
Eat well
Eating a healthy breakfast is the key to success. If you eat a crappy breakfast from a drive-thru, you aren't going to feel good. (Or worse, all the processed carbs will make you feel too full.) Yes, drive-thru breakfast may be more convenient, but making a healthy breakfast at home can be easy, too! There are thousands of easy quick and healthy breakfast ideas, just check this site out!
Silence your social media accounts
Okay, I know this one may be pretty hard…but you can do it! Turning off your notifications is a great idea because this way you won't be as distracted! You can find out how many likes you got on your picture later. Right now, studying for finals is way more important, trust me.
 Make your own study guide
Sometimes the study guides your teachers give you are a little hard to understand. But, you can review your notes and make your own study guide that is easier for you to understand! Color coding can also be a fun way to study. Also, writing down your notes over again helps engrave the facts in your mind.
That's all the tips you need to know for Finals week! Don't stress too much! You can do it! Just stay focused! #finaldaze