Watch Your Wallets, Class of '17
When I entered my senior year last September, I saw it as my last academic year free of charge before entering college. Sure the yearbook, one of the most important articles to commemorate my final year of high school can get pricey as the school year progresses, but I just have to get my money in early. And sure prom can be a bit expensive, but I could always find good deals and still end up looking fresh to death right? Looking back, I wish it were that simple.
For the #Classof2017, I want you all to avoid entering your senior year ignorant of the true money-guzzling nature of this final stretch of high school, so here's what I wish I knew would drain my wallet over the course of my senior year and how to avoid the full brunt of the costs.
Senior Dues: At the start of your senior year, you'll only have to pay $60, around November, the price goes up to $80, nearing February, the price gets to $100. You may be inclined to think that senior dues aren't a big deal or that you can avoid them, but its called senior DUES for a reason: paying them off is a graduation requirement. The best piece of advice to not have to worry about the cost of senior dues is to pay them off AS SOON AS POSSIBLE.
College Apps: Apps costing about $70 a pop, so basically you have to pay a college that you may not get into so that they recognize that you want to go to their school. But don't get disheartened just yet, if you find that you're short on money and can't afford the price of your apps, you can get an application fee waiver. If you qualify for free or reduced lunch, you're guaranteed to use fee waivers for each of your applications. If not, you have a few of options: ask Mr. Clisham in room C-128 to fill out a form for you to receive a fee waiver for any school you wish to apply to, ask a counselor if the college you're applying to has fee waiver codes that you can use, or you can visit a college during the summer. Believe it or not, some schools will give you an application fee waiver for simply visiting.
Housing and Enrollment Deposits: YAY YOU'RE ACCEPTED AND KNOW WHERE YOU WANT TO GO… But not so fast. This is a great achievement, but you have to pay $300 dollars to secure your spot as an attending freshman AND you have to pay another $300 to secure a room so you're not living in your car for your first year #OhHeckNaw. Avoiding this due isn't as cut and dry as college apps, there are no fee waivers for this. However if you have enough scholarship money under your belt, you can use that money to keep your credit card balance healthy.
Prom: This year, the #Classof2k16 was able to ensure that our prom tickets would be only $30 per person, with couples paying $50 together ($25 each). However, prom tickets have been up to $75 for past WHS graduating classes. Along with prom ticket costs, getting dolled up for the big day is a big financial smack in the face: getting a new tux, corsages for you and your date, a #poppin hairstyle, a dress that's totally the-bomb-dot-com, #OnPoint make up, stunning mani-pedis, post-prom dinner at Bob and Edith's or IHOP, etc. It's no wonder you might find some seniors tweeting something like "UGH PROM." But don't get disheartened just yet, tons of stores offer beautiful prom-wear without breaking your wallet, plus you can save some extra bucks if you go DIY and find hair, makeup, and nail tutorials for your special day.
Senior year is the last year of high school, the best year of your life. Don't ruin it by missing out on all of the fun because you waited til the last minute to pay for everything. You will never be a senior in high school again. Be smart. Pay early, get help from relatives, get a summer job NOW, make your senior year as fun as possible.
View Comments (1)
About the Contributor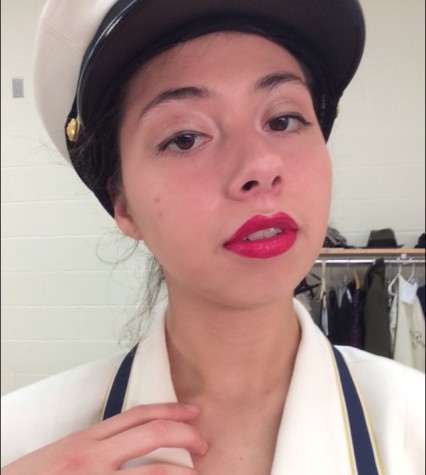 Gabby Villegas '16, Editor in Chief
She's okay. I'd give her work a 3/5 stars.