Senior Prank: Step Up Your Game Class of 2016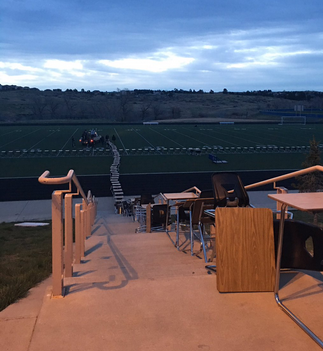 We found the best senior pranks the internet could hold and collected them as a gift for this year's senior class. Wakefield is known for a lot of things, but throwing a spectacular senior prank is not one of them.
According to Ms. Moton, one thing to keep in mind when coming up with a senior prank is to "put a lot of thinking into it and nothing that's going to tear up or dirty up the school or prohibit your senior activities from happening."
The Chieftain Staff looked for some stellar pranks online. Here is what we found:
Sophomore Irina Lopez found this gem with 11 pranks. #finishstrong
Sophomore Nick Cameron found an article about what not to do for senior prank. #aaaaawyeah
Freshman Mominah Tariq found this stunning list. #alarming
Senior Julius Johnson III found the most epic list of all. #seniorsdoitbest
Sophomore Kali Burroughs found the most hilarious senior prank of all. #peoplewillbuyanythingoncraigslist
Freshman Elena Arrowsmith found a senior prank no one should do. #offensivehumorisntfunny
Junior Jaime Segui found this prank which has administration involved in Austin, TX. #itsalwaysbiggerintexas
Junior Destiny Heid found sixteen sweet pranks. #mariachiband
Ms. Moton shared her favorite senior prank. It was the last year in the old building; "they created a beach…in the main circle…They put furniture out there. They had their fake palm trees and all that good stuff…They even poured sand on the front lawn…it looked like a beach; that was a good one." Someone even drove their car on to the "beach" and played music with all the doors open. Everyone seemed to be having a great time. No one got hurt. No one got in trouble. Even some of the teachers went and hung out at "Senior Beach".
We have been in this building for 3 years. The pranks have not been pranks. They have been more hang out in the Town Hall. Seniors have set up tents and sleeping bags and just laid around…not a lot of creativity there. Step up your game, Class of 2016. Use the links above to help.
Senior, and Wakefield Action News Anchor, Brendan Novak said of this year's plans, "You'll be surprised." Let's see, #warriornation. Let's see.
Leave a Comment