Battle of the Brains: Brain Brawl 2016 Results
Hang on for a minute...we're trying to find some more stories you might like.
On May 16th and 17th, 8 teacher selected teams went head to head in an all out battle of the brains. After the preliminaries, Alpert, Babichenko, Grill and Wathen' s teams remained. The final showdown in Mr. Stewart's room on that rainy, cold Tuesday afternoon were Mr. Grill and Ms. Wathen's teams. Ms. Wathen said of making it to the finals, "I can't believe we beat Alpert's team. That was the biggest shock. My team was comprised of underclassmen. They stayed strong and fearless against those Senior contestants." #youngestTEAM #teamWATH
The questions ranged anywhere from pop culture to classic literature and a few questions about quantum mechanics…where no one seemed to know the answer, except creators of the questions. A crowd favorite was that throughout the matches, whenever students got an answer wrong, Mr. Stewart would mumble "read a book…you should read a book…doesn't anyone read books?"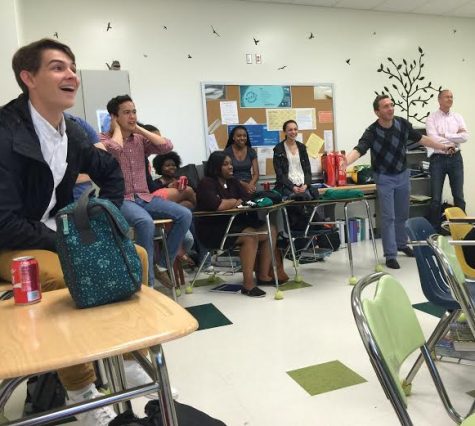 One thing that made the final round of the Brain Brawl such an "interesting match" according to Mr. Stewart is that it was a "team with freshmen versus a group of all seniors. The seniors, of course, wiped the floor with the competing team." Freshman Mominah Tariq said, "getting to finals made us more motivated to win, and even after, we were still proud we made it that far."
When the Chieftain asked Mr. Grill how he felt about winning the coveted Golden Light Bulb of Majesty, he said, "I was just along for the ride."  One thing his team agreed on is that it was "really exciting and fun. It was a good experience" said Senior Gabby Baasandorj. She was "glad to be a part of the team."
Mr. Stewart wants all of #warriornation to know that he is looking for "new blood for the It's Academic Team." For more information on how to be a part of It's Academic, drop by Mr. Stewart's room, C-358.