Wrestling Warriors Are Grappling with Season's Ups and Downs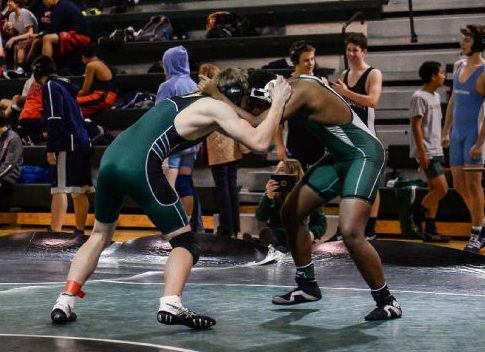 He steps onto the mat staring his opponent straight in the eye. His heart is beating faster and faster but he remembers the first thing his coach taught him, "don't show any weakness." After remembering this, the inner warrior comes out, and he crushes his opponent.
The first tournament of the season was on Saturday, December 3rd. Varsity went to King George High School before the sun was even up. Captain and sophomore Loranzo Rajaonarivelo, wrestling at 145lbs, had a dominant performance and went 3-0 with 2 technical falls and a pin. Captain and senior Andrew Mason had a dominant showing and went 5-0 overall. Captain and junior Eduardo Ortiz, at 160lbs, went 4-1. Captain and freshman Vincent Galang, wrestling at 152lbs, went 2-1 with a dominant show over Louisa County, Charlottesville High School, and had a close one point decision loss over Stonewall Jackson High School. As a team, they went 0-2 in the first round.
In the 2nd round, the team came out stronger. They left it all on the mat, but didn't win the bronze bracket.
"This team has to keep their feet moving; they can't get lazy with their stances they can't get lazy on bottom. They have to be quick and reactive, because thinking takes too much time in this sport.  They gotta get on their scoring horse, and rack up points. Don't think just do." said Rajaonarivelo of the first tournament of the season.
The team then headed to the NoVa Classics the following weekend at Fairfax High School. The team wrestled against the toughest of the tough. Battlefield, McLean, Liberty, and Edison were there and ready to win. Jakub Glogowski placed 6th in the heavy weights, Loranzo Rajonarivelo placed 8th. In addition to Senior Andrew Mason, Freshman Vincent Galang, Freshman Steven Rochard, Sophomore Simon Enkbold all placing in the top 12.
This Wednesday, December 14 was a charity quad dual meet (Hayfield Secondary, James Madison High School, Robert E. Lee, and Wakefield High School.) The charity event was arranged by Hayfield. Charity donations raised in the matches were donated to cancer research. Wakefield wrestled against Hayfield and James Madison. Kowshik Barua won 2 against Hayfield and lost against Madison. At 132lbs Simon Eknbold won against Madison and lost against Grant Saunders of Hayfield Highschool. At 138lbs David won against Hayfield by a pin (2:36) and a lost against James Madison.  At 145lbs freshman Vincent Galang went 2-0 against James Madison and Sam Snoots of Hayfield Secondary. At 220lbs Marco Beltran went 0-1 with a medical Default at the end of the second period and Junior, Nebiyu Alemayehu went 0-1 against Hayfield. At heavyweight Jakub Glogowski went 1-1 won against Madison by forfeit and took a loss to Hayfield.
Since it was a charity match, it does not count against their record. Both matches were tight in score, but sadly, Wakefield did not take the win that night.