Wakefield Boys Basketball Home Opener: A Success
The Warriors played beautiful basketball Monday Night against the Battlefield Bobcats. Wakefield had a really comfortable lead throughout the whole game. Which ended 78-47. It was a team win, everybody contributed their specific talents on the court that earned Wakefield the win.
Coach Bentley was able to match the Bobcats with some good bench play. Battlefield just simply did not have the depth to keep up. Wakefield's bench was huge on defense, keeping the Bobcats out of the paint. Though not only the bench's defense sparked, Wakefield's starting big men held the Bobcats starters in the first quarter to no points. Junior Mahmud Eltaher had an amazing defensive game, with 8 boards and 2 steals. Eltaher also made some amazing moves (The Dream Shake!) on offense leading to easy baskets. After the game, Coach Bentley told NoVaHoops reporter Chris Jollay, "We played at the pace we wanted to."
And that was the story of the night, the Warriors' aggressive offense throughout the whole game. Alan Treakle scored 19 and put up a show getting to the basket down low, with some nifty moves. Halil Parks had 15 points and had some amazing cuts to the basket, leading to various whistles. Last but not least, Amari Cooper had an unbelievable game with 19 points, and the defense with 9 rebounds and 3 blocks. A rebound shy of a double-double. Amari had also some spectacular standing dunks, hyping up everybody on attendance.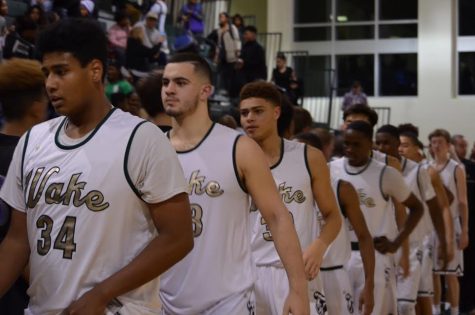 In other news, the Bobcats were without their senior forward Shonari Street. According to Reporter Jollay, Randal Bill of Battlefield said, "we just didn't rise to the occasion tonight. Maybe we'll blame it on the bus ride, but you have to be ready to play."
The Warriors traveled to Utah this week. We wish them luck from all of us here in The Chieftain. Go Warriors!
Leave a Comment