Warrior Baseball Continues Their Historic Run
Our baseball team has begun their hunt for the 'ship! With a solid win over TJ Monday night, and a stunning victory over Edison on Wednesday, our boys are going into the Conference Championship game very inspired and hyped up for a real run at winning the entire thing. It has been 11 years since we have been on the Conference Championship field.
TJ proved to be a real test to our Warriors as they held them scoreless through 4 innings of play. But the Warriors scored four runs in the 5th inning and behind great pitching from junior Colton Poythress held the Colonials to no runs. "Our key to this win was our defense. They put a lot of balls in play, and we didn't make a single error. That in my opinion won us the game" said Poythress after the game.
So, with our boys fresh off the win against TJ, they went into the game against Edison with their heads held high!
"This is our game to take. No one wants to play us, we are the team to beat" an enthusiastic Coach Ruck said to the boys before the game, and our boys took that message to heart.
Edison started off the game pretty well, as they got two hits in the first inning but the inner Warrior came out in our guys and we fought and fought. Behind clutch pitching from senior Ethan Heckler, and some great hitting from senior Jaime Segui, our boys earned a 7-3 victory over the Eagles. Freshman Max Lane also performed very well with some nice plays at second base. David Baron, junior center fielder, had some great plays in center and had some very clutch hits!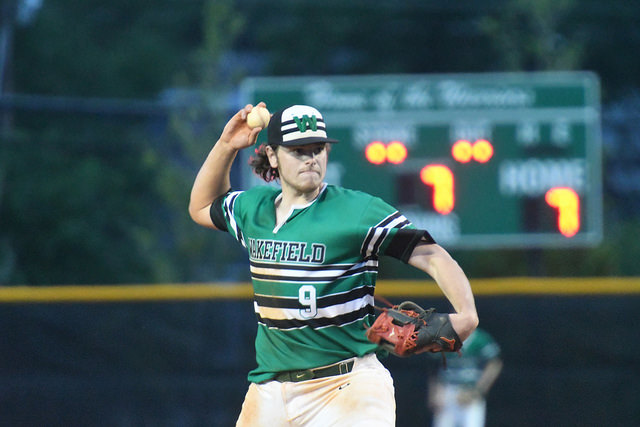 Our Warriors now head to the Conference 13 Championship for the first time in more than a decade!
But our team isn't worried, this is what they've been preparing for the last 3 years. "We've put in too much work to lose, we have that mental toughness that separates us from a lot of these teams in the conference. We stay grinding" senior Matt Turner said about the team.
This experience has been amazing in many ways, but for our seniors its been a memory that will last for the rest of their lives. "We are extending our season, and us seniors, it's all we want. We don't want it to be over" senior Ethan Heckler said. Ethan was voted conference player of the year and we could not be prouder of him and all he's done for the program. "Couldn't have done it without my team" said Heckler with a smile.
Our guys are definitely excited about the game and are ready to play the Statesmen, a team who we have beaten this year, but they still are a very tough opponent. But its nothing our Warriors can't handle! "It's definitely a sense of urgency- it's a double play or die. It's a crazy feeling" said senior Noah Sampson when asked about this great run.
Our team is going to need support at the game on Friday as they take on the Marshall Statesmen. Come out and cheer for the Warriors at 5:30pm. #RingSZN
Leave a Comment