Wrestling Recap: Championship Season
Our Varsity Wrestling Warriors did a terrific job at Districts, Regionals, and States this year!
To start off, our boys performed excellently at Districts. Senior Steven Rochard (152), junior Cameron Queen (160), and sophomore Ejaz Qureshi (120) rocketed to 1st place. Seniors Milo Clark (195) and Carlos Seyes (182) earned 2nd place. Senior Devon Graham (170) and freshman Dennis Urquilla (145) placed 3rd. Senior Alexis Castro (132) made it to 4th place.
For Regionals, The boys had some amazing performances. Senior Steven Rochard (152) and junior Cameron Queen (160) placed 1st.  (Congrats, Regional Champs!) Sophomore Ejaz Qureshi (120) placed 2nd. Here is what Ejaz had to say about his performance as a sophomore and what got him to where he is today; "I went to every practice. Never missed a single one. I always do what coach says. Last year I practiced in the off season which made me a lot better, too. Last season was more of a learning year, and this year I got stronger and worked the techniques and overall improved as a wrestler." Ejaz definitely did. He competed at States as a sophomore. Senior Milo Clark (195) placed 5th at Regionals, and just missed State competition.
At States, our very own  Steven Rochard had an outstanding performance on the big stage. He fought hard and claimed first place! This is the second year in a row Wakefield has brought home a State Champion. We had two other wrestlers make it to the State competition: Ejaz and Cameron. Ejaz said, "I wrestled twice and lost both matches. I never made States before. I was so nervous. It is a different kind of pressure. I was so happy I made it to States! I couldn't believe I made it. Next year, I want to place at States."
When talking about his teammates who also made it to States, he said, "Cameron is a tough kid. He was sick and just made a mistake, or he would have placed at States." Ejaz had a huge smile on his face as he talked about our State Champion; "Steven is the best kid in the practice room. Whenever I drill with him, he makes me better. He helped me get stronger, showed me techniques. I honestly cried when he won the State title. I lost my voice, I was screaming so much."
This season has shown the strength that is the Wrestling program we have here at Wakefield, and there is nothing but improvement for future seasons to come.
Leave a Comment
About the Contributor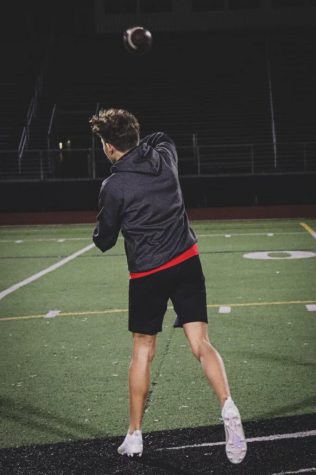 Caine Poythress '23, Staff Writer
Caine is a sophomore in the class of 2023. He is in his second year as a part of The Chieftain. He is the 4th of 4 siblings to go through The Chieftain....