(Updated) Update on the Worldwide Pandemic: Coronavirus
PUBLISHED Tuesday, 3/11/20:
The coronavirus has officially reached the U.S. We need to take safety precautions. We need to know how the symptoms are different than a cold or the flu. We need to not make jokes about other people having it, especially racist jokes. We need to work together to stop the coronavirus.
The death toll in the U.S. from the coronavirus outbreak rose to 32 today. There are more than 1,000 cases confirmed across the country, according to CNN.com. There is now one confirmed case of the virus in Arlington, and eight in the state of Virginia. Around the world there are about 115,000 worldwide cases of the coronavirus. Italy has shut down the entire country.
This is serious. How do we stop this?
Healthline.com recommends washing you hands thoroughly for 2o seconds in soap and water constantly. People catch the virus when bacteria enters the mouth, nose, or eyes, so avoid touching your face. To avoid the spread to others, try to cough or sneeze into tissues.
Women and children are less likely to die from as well as catch the virus. STAT said, "Only 8.1% of cases were 20-somethings, 1.2% were teens, and 0.9% were 9 or younger. The World Health Organization mission to China found that 78% of the cases reported as of Feb. 20 were in people ages 30 to 69."
*To learn more about how to prevent this disease, check out the CDC.
UPDATED Thursday, 3/19/20:
Since the original publishing of this article one week ago, schools have closed, restaurants have gone to delivery only, and health care workers have become (or were they already and we just didn't know it?) the most important celebrities in the United States.
Here is a NYT World article on Flattening the Curve.
Here is a NYT Opinions article on What Will Happen Next.
Here is a chart posted on Twitter by Kelly Gallagher. It really is a good visual of how SOCIAL DISTANCING can help flatten the curve: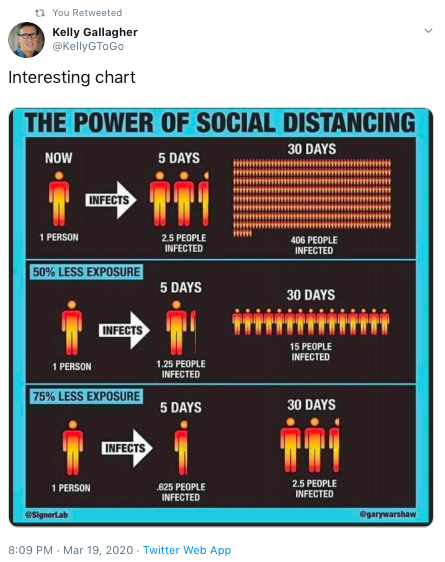 Leave a Comment