Are You Ready for Some Football? Super Bowl LV: Chiefs vs Bucs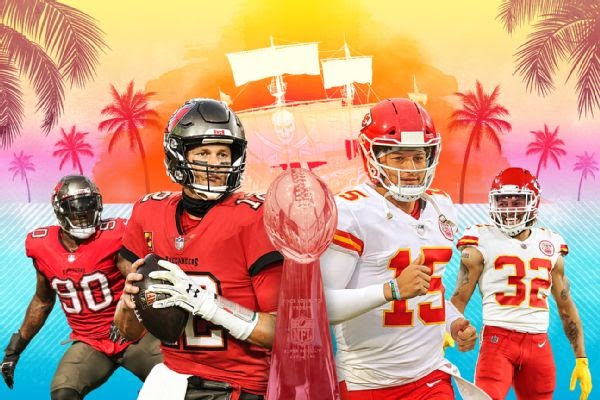 This Sunday we will see the best teams from each conference battle it out for the Lombardi trophy. This will be one of the greatest quarterback duels in Super Bowl history. The battle between the GOAT and the KID. 
Here is what I know about both teams, and my Super Bowl prediction:
Tampa Bay Buccaneers 
After acquiring Tom Brady (the six time Super Bowl champion ) over the offseason the Bucs have changed their team from a middle of the pack team to the best team in the NFC. This will be their second Superbowl appearance in franchise history.  This will also be TB12's 10th Superbowl appearance in his 20 year career. Tampa Bay's offense is filled with stars, at wide receiver they have Mike Evans, Antonio Brown, Chris Godwin, and Scotty Miller, all of which are Pro Bowl caliber. They also have Leonard Fournette and Ronald Jones II at running back. Lastly, they have O.J Howard, Cameron Brate, and the former Patriot Rob Gronkiski at tight end. Their defense is also no joke with Jason Pierre-Paul and Devin White leading the way. Tampa was ranked 1st in rushing defense during the regular season, but was ranked 21st in passing defense which is Kansas City's speciality.
Kansas City Chiefs
Since last year the Chiefs have lost ONE GAME!!! The Chiefs are coming back for their third Super Bowl win in franchise history. This will be the first Super Bowl repeat in the NFL since the 2003-2004 Patriots when they had Tom Brady. With the combination of Tyreek Hill and Travis Kelce, Patty Mahomes has unstoppable options to make significant passes. Defensively they are middle of the pack, but paired with their great offense, it makes this team almost unstoppable.
I think that KC's high powered offense won't be stopped. Even with Tom Brady, the Buccaneers won't put up enough points. My final prediction is a Kansas City win: Kansas City 30 – Tampa Bay Buccaneers 22. 
Make sure to watch the game on Sunday, February 7th at 6:30 on CBS.
UPDATE: Tom Brady and the Tampa Bay Buccaneers won Super Bowl LV, 31-9. This gives Tom Brady 7 SB Championships.
Leave a Comment