Quick Rainy Day Comfort Pasta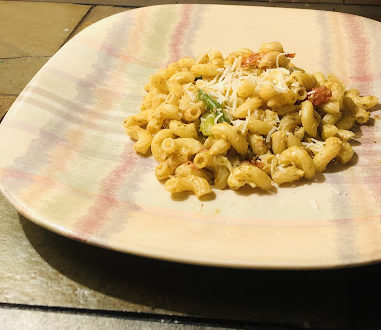 This quick and easy comfort dinner is ideal for rainy days when all you want is an easy supper. This recipe is not only effective and simple to prepare, but it is also ideal for large groups/families. This dish's aroma, taste, and love brings the entire family together.
Ingredients: 
1 pound of orecchiette pasta (you can use any type of pasta, I used elbow macaroni)

2 tsp of olive oil

1 pound of Italian pork sausage

3 cups of baby broccoli (and/or mushrooms)

2 cups of chicken broth

1 cup of Parmesan cheese

1 teaspoon of Italian parsley

Salt and pepper according to your preference
Directions: 
Boil pasta in a deep saucepan, boil water and add some salt bfore putting in the noodles for 8 minutes. Add 2 tsp olive oil to a wide large sauté pan, and cook the sausage, cutting it up in bits and pieces using your wooden spoon until it's fully cooked. Remove the sausage and place it in a different container, draining it on paper towels.
Remove the oil out of the pan but don't clean it just yet since you'll be deglazing the pan with some chicken broth, and then you will soon add your sausage and your vegetables. Cook for one or two minutes until the vegetables are done. Drain the pasta and combine it in the other pan with the chicken broth, sausage and broccoli, and continue to coat it with the sauce. Finally, add the cheese to fill the sauce out.
Now you're ready to enjoy your food.
I got this recipe from Entertaining with Beth.
Leave a Comment