Girls Varsity Basketball Started A Fire
 The Girls Varsity Basketball team has come a long way this season. They've grown not only as a team but as a family. They've learned about each other through their strengths and weaknesses. Not only to notice them, but to make the team better as a whole. #GVB has a winning season for the first time in 19 years.
Since the Washington-Lee win, these warriors have turned the season around. They have won seven games in a row. Read about the W-L game here.
The Tuesday, 1/20 home game against Falls Church made the team realize that they are headed in the right direction. These girls started to work as a team and put their all on the court. The top scorer of the night was point guard Summer Matlack with 19 points. They ended the night with an awesome winning score of 54-30.
The Friday, 1/23 Thomas Jefferson game took place in their house, but the girls still played hard with some tricks up their sleeves. Summer Matlack made an amazing pass to La'Shea Thomas while she was in the air to make a notable lay-up. La'Shea Thomas was the top scorer that night with 13 points. The team ended the game with a score of 42-33.
The Friday, 1/30 away Robert E Lee game, the top scorer was Summer Matlack with a flaming 21 points! The ending score was 55-45.
The Monday, 2/2 JEB Stuart game, which was held in #ourhouse, ended with a score of 59-37. Lyric Hatcher was the top scorer of the night with a splendid 19 points.
The Tuesday, 2/3 game at Falls Church was close in the beginning, but then the warriors brought the heat. Summer Matlack had a total of 14 points leaving her at top scorer of the night. The ending score was 48-31.
The Thursday, 2/5 Home game against Marshall ended with a beautiful three by Makahayla Mutz. The top scorer of the game was Olivia Bayne with an outstanding 19 points. The ending score was 63-27.
They lit a fire in all of #warriornation's hearts. The Edison double header is not to be missed! Girls VBB plays at 6:00pm and Boys VBB plays at 7:45pm. Come see their final home game (senior night) Friday, February 13.
View Comments (2)
About the Contributor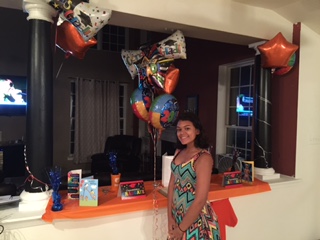 Myisha Ferguson '17, Sports Editor
I am a junior at Wakefield High school. I love being around family and friends. I've played volleyball for three years, and I manage the Girl's Varsity...