Political Candidate Forum Held for First Time Voters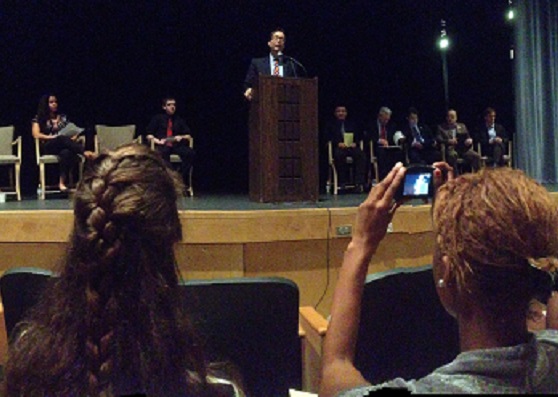 Wednesday, October 30th was a memorable day for Wakefield seniors. Ms. Sheridan and Mr. Campbell organized an assembly inviting politicians who ran in the November 5th election. This event was created, "to make seniors excited to vote for the first time and identify with their own values," Ms. Sheridan stated. Five candidates came to the political assembly: Jay Fisette (County Board Member), Rob Kruprika (D-45th), Alfonso Lopez (D-49th), Terry Modglin (D-49th), and Matt Wavro (Ken Cuccinelli's representative); four students represented the candidates that weren't able to make it; Melanie Ewell represented Audrey R. Clement (County Board Challenger), Ryan McAuley represented Jeffrey J. Engle (D-45th), Alex Souvannavong represented Bob Brick (D-48th) and Elaine Bayne represented Michael Kimmelman.
After the politicians gave a brief summary of their goals and views, they opened up the floor for questions to the audience of first time voters. Jesus Enriquez-Hernandez '14 asked a controversial question, "Why is Cuccinelli trying to have it a crime to speak a different language other than English, if the United States does not have an official language? Mi primer idioma es el espanol y eso nunca va cambiar (my first language is Spanish and that will never change)." Ken Cuccinelli's representative, Matt Wavro, spoke on how he did not know if this was true, and if it was, he didn't support it. Then, Delegate Alfonso Lopez went to the podium and confirmed that he was present when Cuccinelli, proposed the law. The crowd seemed to wake up, and a nervous excitement rippled through the auditorium. Immigration reform is  a topic with that kind of power. Lopez won the crowd when he stated, "In the Virginia I'm fighting for…there's no one telling you you can't follow your dreams." Same sex marriage was also a topic that was brought up by students. Mr. Fisette got a positive reaction from this young crowd when he explained that he had recently married his same sex partner in the District of Columbia.
Overall, this assembly helped inform Wakefield's graduating class on what to look forward to on Election Day. When you see Ms. Sheridan and Mr. Campbell in the hallways, make sure to thank them for all of their hard work and dedication.
View Comments (1)
About the Contributors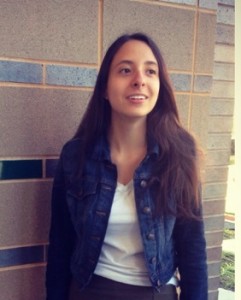 Stephanie Gomez '14, News Co-Editor
Lived in Arlington since 96. An easy-going, caring, lovable and enthusiastic human being. Batman lover, and 80's freak. I'm going wherever the wind takes...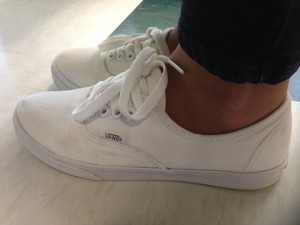 Midnight Blue '14, Staff Writer
Born in Washington D.C but raised in Arlington,Va. Midnight blue and black are my favorite color. I like to shop a lot and do my nails. Someday I would...