Australia Wildfires: What Happened and How to Help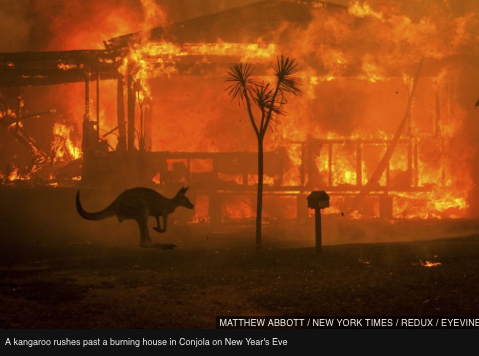 The wildfires in Australia have been all over the media for the past few weeks. These raging fires started in early November. Over 200 fires around the continent have started, and the orange skies can be seen as far as New Zealand.
According to NBCnews.com, "Twenty-seven people have been killed and thousands subjected to repeat evacuations as monster fires have scorched through more than 25.5 million acres, an area the size of South Korea."
Experts suggest the fires are caused by climate change. According to Time.com, "Southeastern Australia has been 'abnormally dry' since September…and climate change has likely made the situation much worse."
According to NBCnews.com, "Australia's government has maintained there is no direct link between climate change and the devastating fires, a position that has prompted activists to plan worldwide protests for Friday."
According to The Washington Post, "this season's fires have been far more extensive, fueled by a three-year drought and high temperatures….'We are running out of time to act on climate,' said Anneke Demanuele, a convener of Uni Students for Climate Justice who joined the Melbourne protest."
The Australian Red Cross is accepting donations to aid the victims effected by these fires and the 1,285 volunteers and staff. Celebrities like Kylie Jenner, Chris Hemsworth, and Nicole Kidman donated between 500,000 to one million dollars each. You can donate here.
Leave a Comment